Involvement:

 Regional Operations Manager
UrbanStems is a national floral and gifting startup based out of Washington, D.C.; the company is a proponent of failing fast, and learning from failure. This case study tracks the rebuilding of a startup company from the brink of collapse.
In 2014, a group of friends wanted to deliver flowers to their partners for Valentine's day. After years of disappointment with available offerings, they banded together to start UrbanStems to radically improve the gift-giving experience. What started in a janitorial closet with a repurposed kitchen refrigerator, over time expanded to a 5-city operation, with multiple fulfillment outposts and staff of 120+. 
With a demoralized team, lack of understanding of how to work with their product at scale, and systems stretched far beyond their capacity, the entire company needed to restructure and re-align to mend the mistake of Valentine's Day, and create a path towards a scalable future.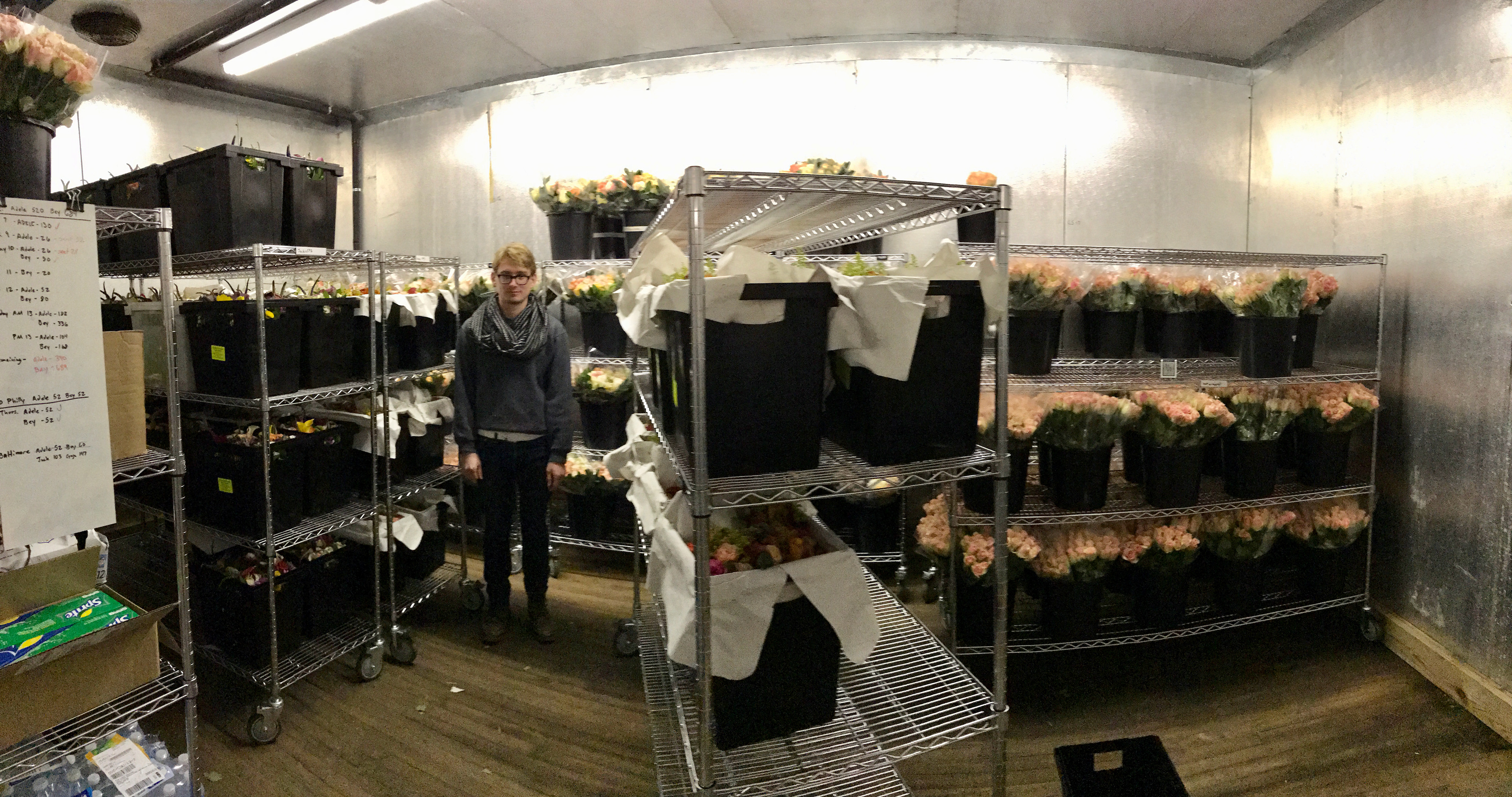 As the first hire in an expanding market for UrbanStems, I was already situated in a position of deep research and learning. Building a market from scratch, I actively observed the processes at play within the established markets in DC and NYC. Through observational training, one-on-one interviews, and immersion into the company prior to Valentine's Day, I saw the company systems and department manage a series of obstacles. I used the opportunity to build small bet trials within my own market and team in Baltimore.
Immediately following the aftermath of Valentine's day, crisis triage and ripple effects continually exposed systemic failures and vulnerabilities across the company. The work I put in as an outsider learning and incorporating the systems, allowed me and my team to accurately pinpoint where the failure happened, and hold honest conversations about opportunities for improvement. It is never easy to assess failures before they happen, but by failing early and hard, UrbanStems was in a position to learn, radically innovate their own processes, and scale the company moving forward.
Based upon the conversations about the employee experience at UrbanStems, key takeaways to prevent future failures around Valentine's Day emerged:
Trust lacks between operations centers and company leadership. As a community, employees are unsure if the company has their back or listens to their feedback on company direction. Company departments acted as silos for information. Information did not flow properly, and came inconsistently, creating confusion about expectations, roles, and responsibilities. Additionally, the company did not adapt communication styles from early years where the whole company could have a meeting as a small group; the same methods did not work once the employee count reached a certain threshold size.
When initially started, UrbanStems ran on Google Sheets and gumption. As the company evolved, it continued to adapt ad-hoc and informal systems that relied on human inputs. These systems varied greatly on which staff member happened to use the tool on a given day, and which market they worked in. With a lack of clear information, capacity and quality dropped precipitously with the growth as the business grew in order volume.
There existed no uniform knowledge about floral handling, and care of the company's product offerings. Many practices for product care came from hearsay folklore of people's experiences caring for flowers in the past. When staff from non-operational parts of the company pitched in to help in high volume days like Valentines Day, or temporary workers on-boarded to help with sales spikes, this problem amplified itself and manifested as products unacceptably damaged either before being sent out, or during delivery to the customer.
​​​​​​​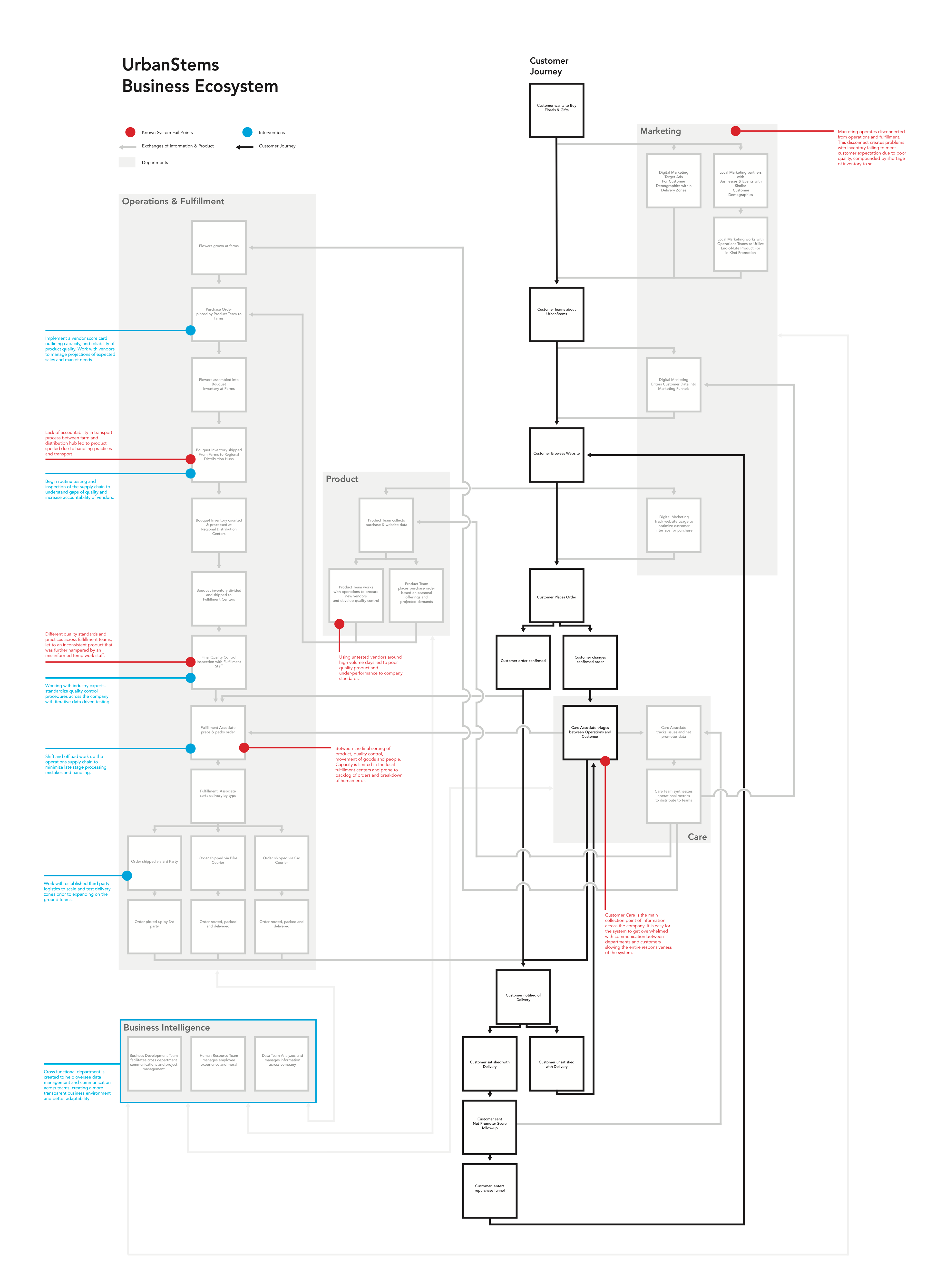 Following a crisis, there are plenty of ideas circulating around how to improve next time. Some of the ideas come from an individual's frustration. The company must evaluate these ideas critically and efficiently, particularly in a resource-scarce environment like a startup, in order to get business back on track.
From the many generated ideas, the company gathered a coalition of stakeholders ranging from part-time employees to executive staff. Together, we determined three crucial components of the business needed to be improved: culture and people, operational systems, and product quality.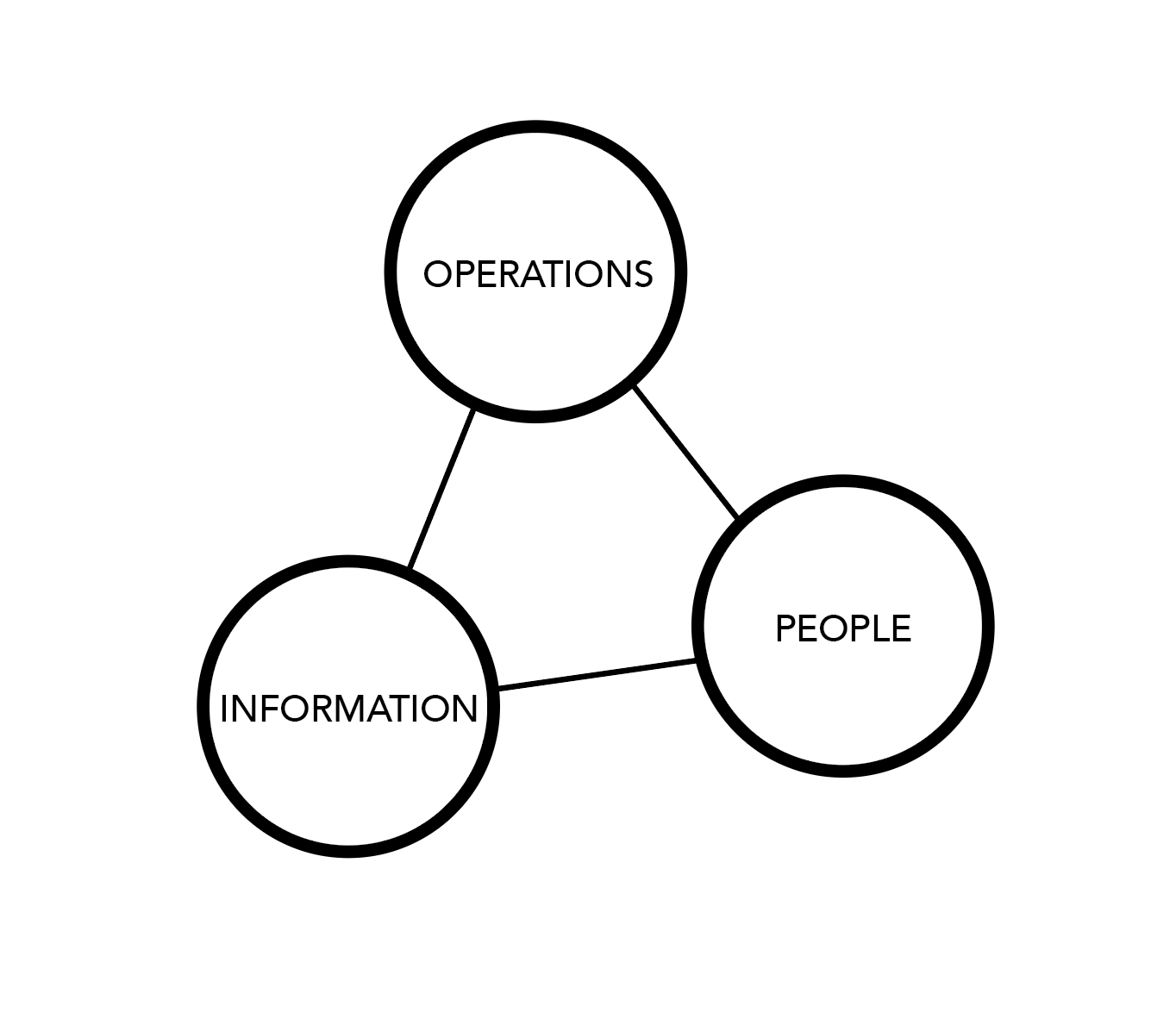 We conceived three interventions to better situate the company for success.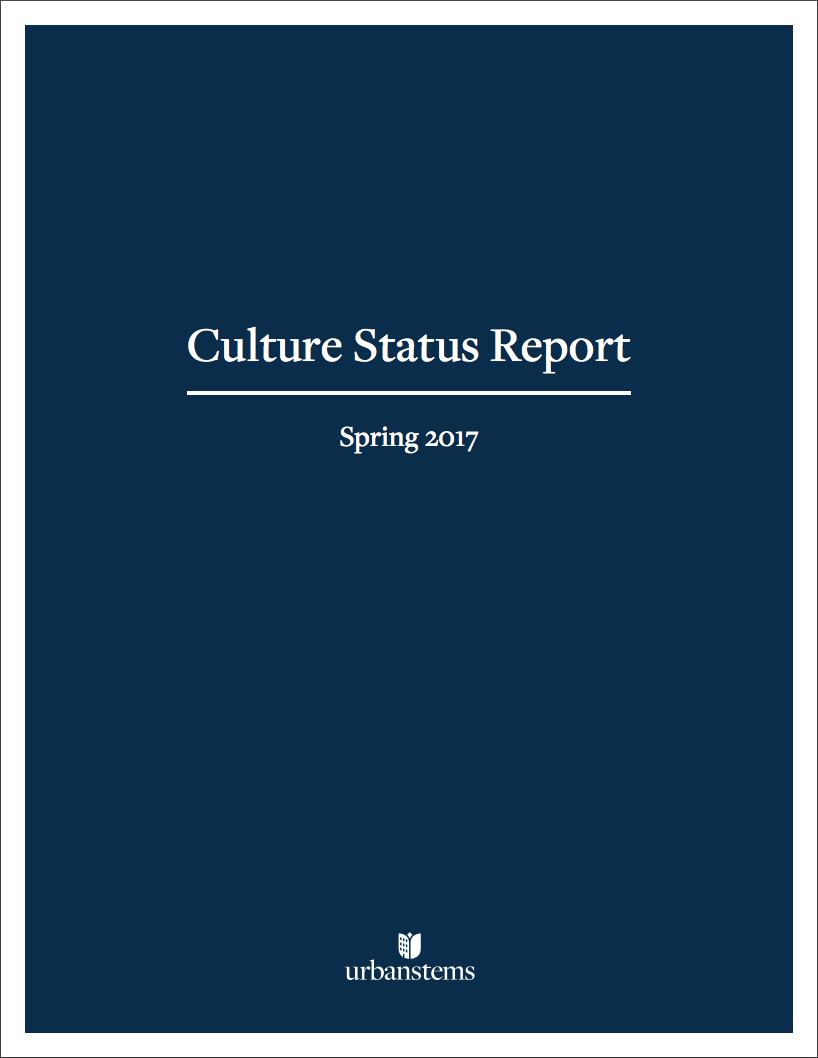 The biggest asset any organization has to overcome a crisis are the relationships and trust among its people. There must exist a platform for feedback loops where people can communicate their concerns and watch as the company reacts and addresses them. This is critical to the success of any company, especially a quickly expanding start-up. 
Over the course of a month, a company-wide anonymous survey was developed, disseminated, and synthesized into what we called the Culture Report. Using this data, the company began to measure the impact and well being of employees. With a 50% response rate, employee concerns became tangible data points that the company could work on addressing.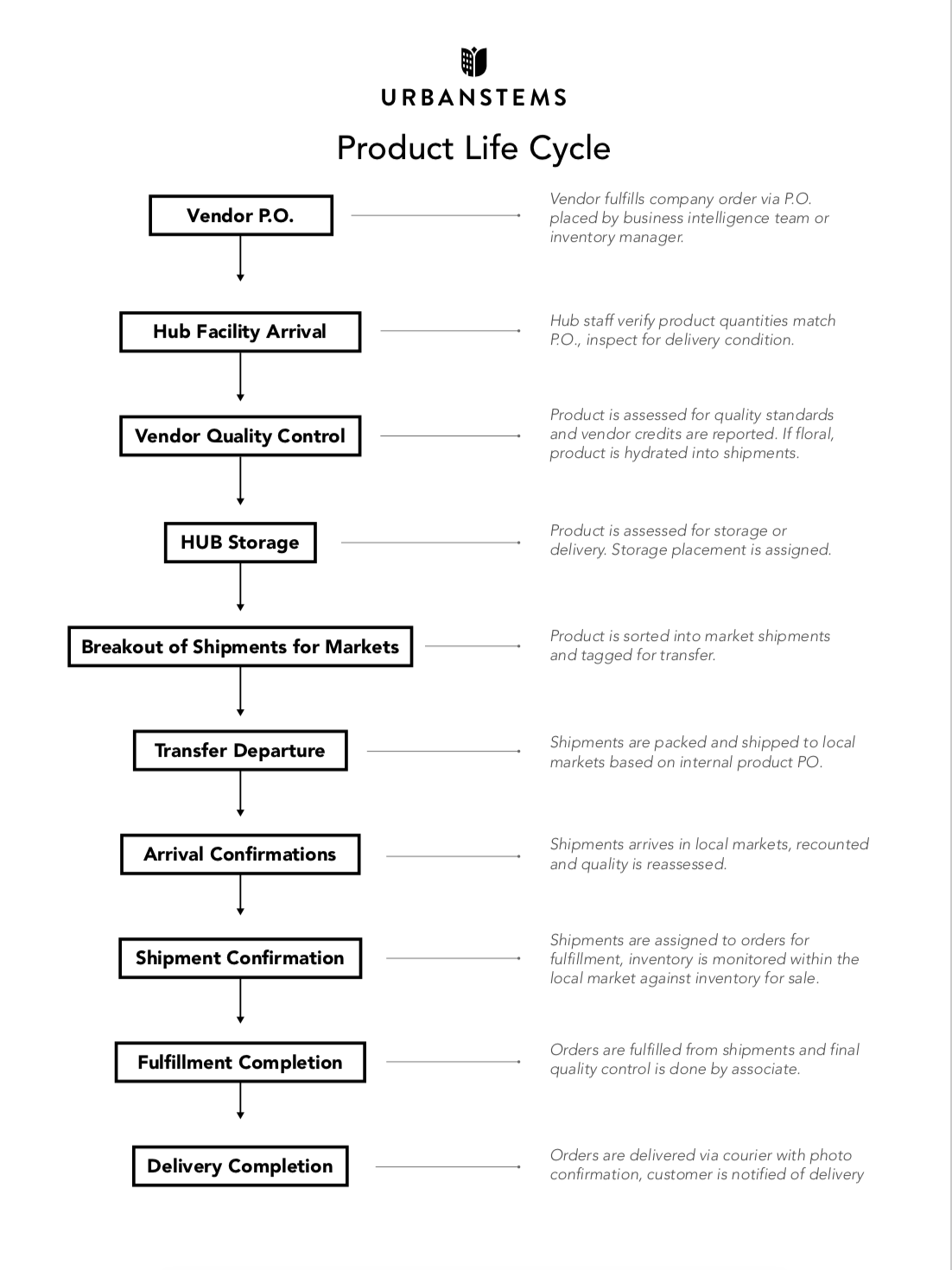 Operations shifted to a centralized approach, away from depending on a fractured supply chain to individual cities, reducing the damage risk to products as they moved from farm to delivery. As part of this change, operations shifted away from fulfillment centers in major metropolitan cities where real estate was expensive, to more affordable larger warehouse operations on the east coast. 

As this model proved cost effective and improved quality, Baltimore shifted from a small city-based operation to the regional hub where processing and sorting happened for all products shipping to east coast markets. This move increased capacity across the whole system by more than 20x and created a new model that could be adopted by the company to bolster further expansion to a national distribution network.
Quality Guides and Control
With the standardization of operations within a central facility, additional standard operating procedures were developed around floral quality, plant and green housing care. We created and disseminated an instructional guide to all employees so that anyone could step in if needed to help with fulfillment. 

Working with industry experts in preservation and botany, we began to test and continuously monitor our entire supply chain from farm to fridge for weaknesses and potentials for improvement. This enabled the company to better hold vendors accountable for product as it moved through the supply chain.
The business of gift-giving is seasonal, so UrbanStems rolled out these changes during lulls in sales volume. The first real test of the system occurred with the second biggest gift-giving holiday of the year: Mother's Day. Though not nearly the massive scale of Valentine's day, the measures put in place laid the groundwork for continual improvement and implemented KPIs that were unheard of at the company prior to implementation.

Crisis exposes a lot about how a system is or isn't working. Though difficult to live through, the rebound opportunity fresh off of chaos provides a major opportunity for growth and stabilization.