Dates:

Fall 20

13-

Fall 2018                          
Involvement:
Faculty, Curriculum Development, Facilitator
The MA/MBA(LINK) program is a dual enrollment graduate program run between the Maryland Institute College of Art (MICA) and Johns Hopkins University. Coupling business intelligence with creative thinking, the program aims to help foster the next generation of transformative leaders. This intervention focuses on the Prototyping component of the curriculum.
The MA/MBA program attracts students from a variety of backgrounds and professional experiences. For many students, the program is their first introduction to formal training in design, and their first time exercising creative thinking. The curriculum plays to the strength of the institutions, with the creative components building to design leadership focusing on collaboration, creativity and innovation, prototyping, cultural awareness, and sustainability. As a relatively new program, the coursework and curriculum actively evolve to react to the needs of the institution and the professional world.
For my scope of work, I was asked to build out and teach the prototyping coursework for the curriculum. An 8-week accelerated course, the course plays the role of building creative confidence within students while introducing them to the design process as it relates to making products and services in the real world. The course is Material and project agnostic, using a framework designed to slowly introduce concepts around prototyping while also getting students physically making things.
Students in Prototyping assess scenarios and outcomes while illustrating and modeling outcomes and prototypes. Application research, system feasibility, risk assessment, product lifecycle management (PLM) design and styling to sales and marketing, and the use of visual analytics are all methodically employed as the class explores a variety of approaches including proof-of-principle, form study, user experience, visual, and functional prototyping. Additional emphasis is placed on design methods to combine, expand, and refine ideas, and the creation of multiple drafts while seeking feedback from diverse groups of people, including end-users, clients, etc. Students have access to MICA's prototyping resources and investigate commercial prototyping resources as well.
While designing the course, it quickly became apparent that every student would be approaching design from a different level of comfort and expertise. Researching the incoming student's program application resumes and portfolio sites, students ranged from seasoned architects, UX designers, lawyers, community organizers, and accountants. The curriculum needed to be flexible enough to allow a variety of students to take projects seriously and stay motivated. The course needed to work for experienced creatives, while at the same time pushing those with non-creative backgrounds to go beyond their comfort zone and learn new ways of thinking.
Reviewing the course in conjunction with the rest of the curriculum, it became quite clear that more traditional methods of design thinking project would be redundant. Students are exposed to "human-centered design" exercises and the world of Post-It notes in other courses. However, other courses lacked design research followed by action. It is one thing to prototype ideas, and another to build out and test a service or product beyond abstract ideas and theories.
​​​​​​​
Upon researching and understanding the incoming students and the landscape of the course at the institution a few key lessons emerged:
Students are passionate about a breadth of subjects, and they often use MA/MBA program as a vehicle to refine, manifest, and live out those passions. This variety of backgrounds and passion should be harnessed and celebrated in the course.
Prototyping is about learning through executing "small bets" and growing ideas iteratively. Graduate students have a habit of striving for perfection and will often limit what they will do if they fear they cannot achieve a fully-realized vision. The course should create an opportunity to create a safe space for experimentation and failure. 
MBA students are highly competitive as compared to their peers in other graduate programs. 
Because students have different levels of familiarity with the design process, students should be evaluated against themselves. To encourage exploration and growth, grades should be based upon a student's individual effort, not just on subjective feedback on their work.
The class must facilitate a studio community that has a low barrier to entry for everyone to participate in. The studio culture should encourage experiential play around ideas, emphasizing making and doing that leads to learning and refining.
An abundance of resources for teaching making exist online, from Youtube videos, open-source curricula, TED Talks, etc; there are plenty of ways to learn about how things are made and how products form. My challenge is to distill these resources down into eight weeks, crafting a framework for students that could be applied across design and design-adjacent disciplines.
The course syllabus then represented a series of exercises that emphasized the feedback loop between context and form. Using an approach agnostic to the subject matter, students will progress through a series of assignments designed to challenge their thinking, encourage creating, form and test hypotheses, crescendoing to a final project where they would realize a full product or service that aligned to their personal interest.
The first prototype of the course brought together a mixture of prototyping principles and hands-on experiences that build competencies and confidence along the way. Each lesson flowed from one assignment to the next. The assignments both diverged on how things can be prototyped and converged on a passion project that ultimately became the students' capstone work. The course is broken into four parts:

diagramming, materials, iteration, and building

.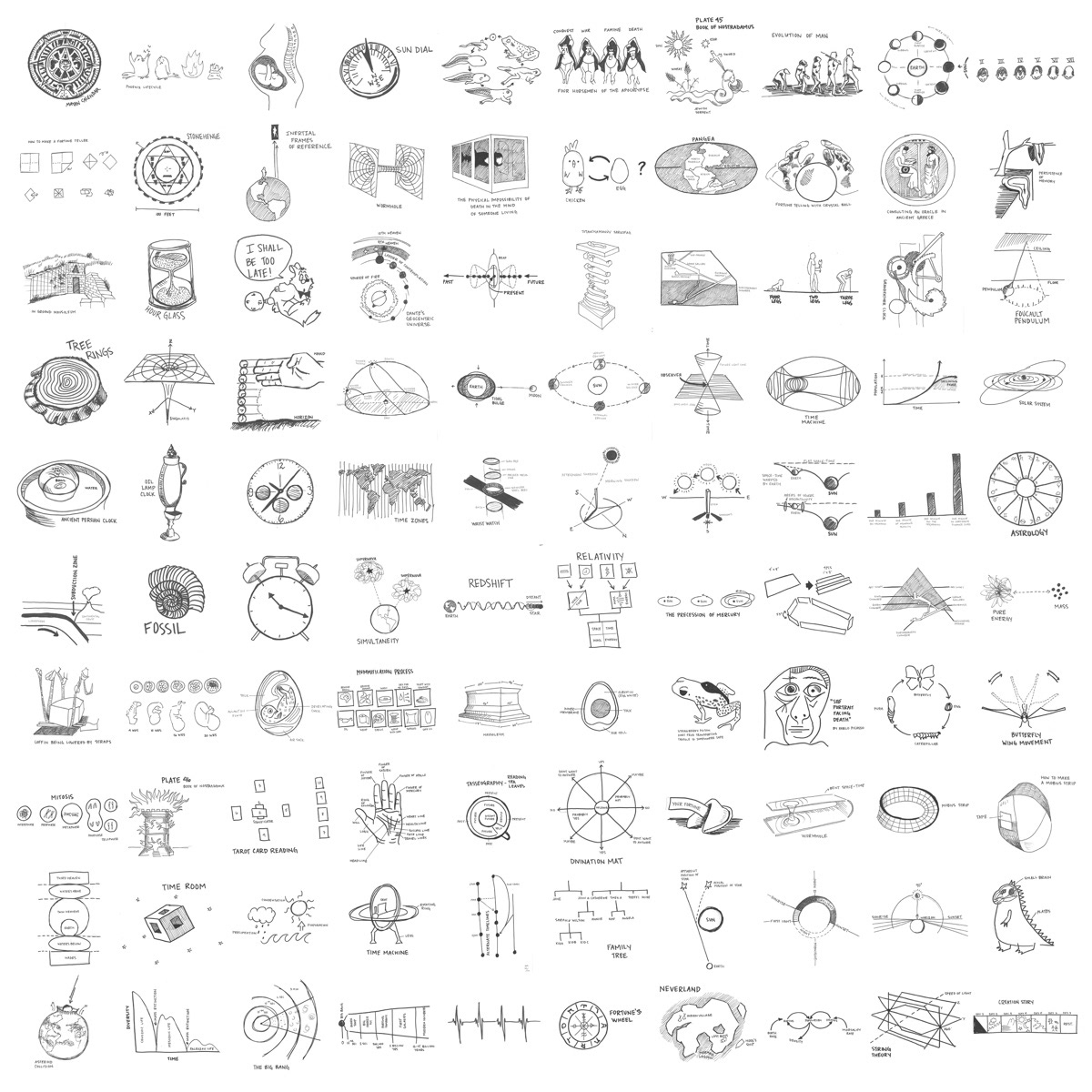 Diagrams and visualizations are critical tools to communicate in the world of design. Students are tasked with diagramming observations from their daily life and drawing visualizations of processes and concepts relating to their personal interests. This served two purposes: it allowed students to learn or hone their visual communication skills using what they were familiar with and facilitated sharing their own personal interests and experiences with their peers. Overall the assignment was designed to lay the foundation for our studio culture by creating empathy among students and encouraging them to view the world differently.
This section explored the materiality, meaning, and sustainability of materials used within products or services. Assignments are geared towards getting students working with physical forms and experimentation. Through this experimentation, students learn how different tools, physical or digital, provide creative constraints that affect the execution of an idea. By encouraging students to experiment, students gain an appreciation for how to mold and craft different end results by using materials in new and unexpected ways.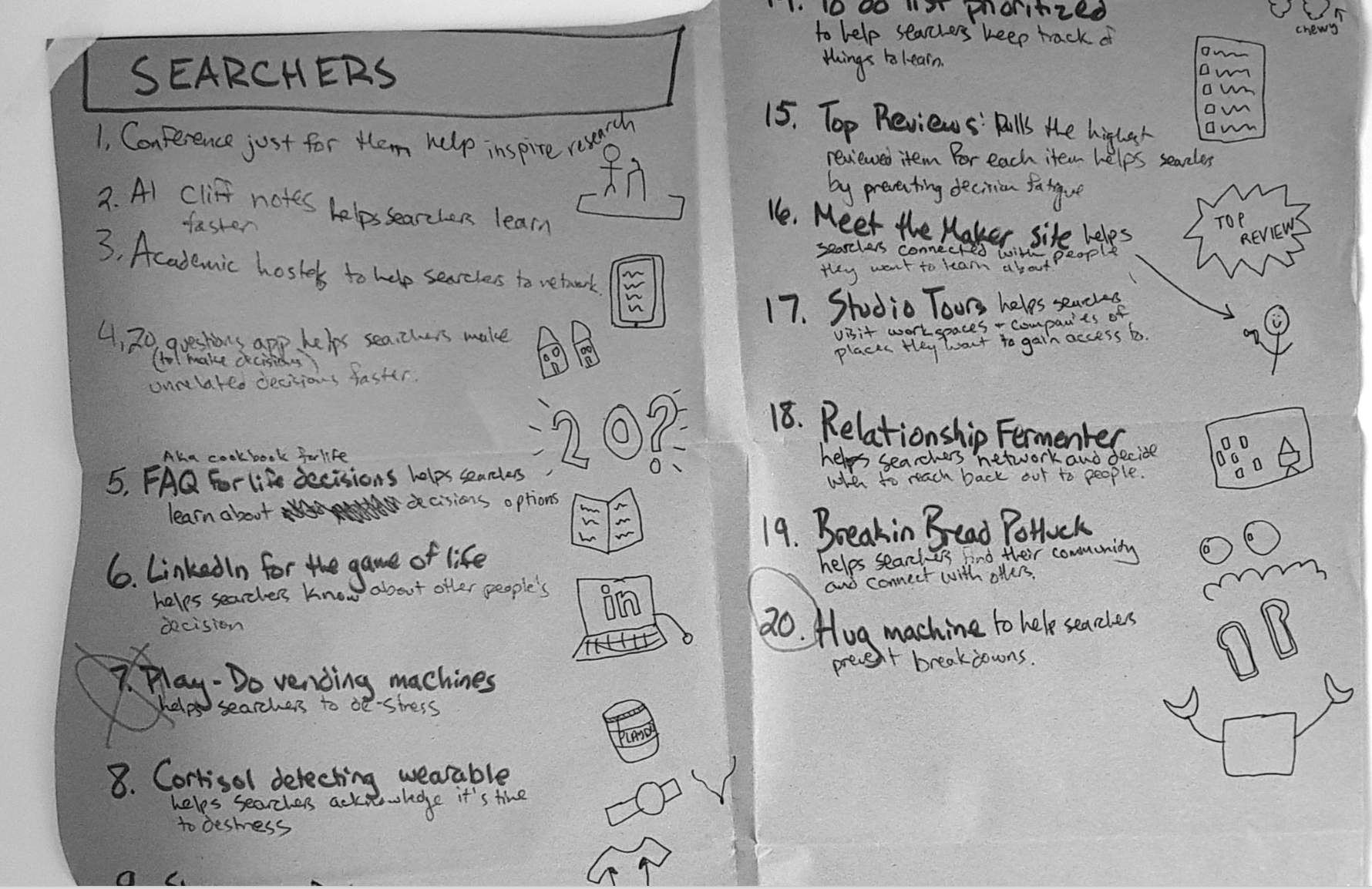 The first prototype is never the last. As part of active design research, designers and creatives learn by making. This section is geared to get students exploring a problem or scenario iteratively. Students begin to understand that multiple solutions may address a design challenge. Through diverging on ideas until creative exhaustion, students develop a sense of how to converge on which methods, materials, and processes provide more optimal solutions.

​​​​​​​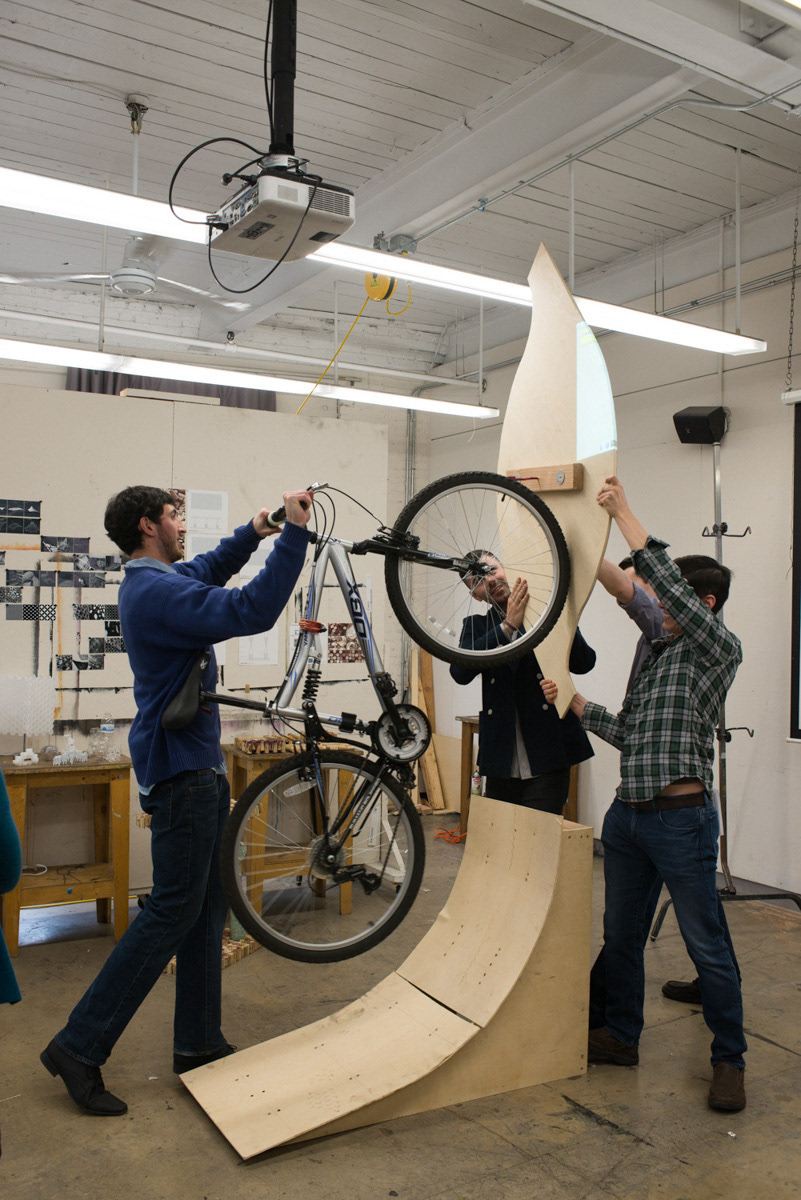 The final section of the course matched the design prototyping process to each student's individual interest with a capstone passion project. Students identified a design brief relating to a problem they were personally invested in answering, and prototyped solutions in response. A wide variety of projects meant that within the studio environment, students were exposed to how prototyping applied to solve a variety of problems. As a healthy studio culture emerged, students lead conversations among themselves during critiques, encouraging empathic and collaborative problem solving among their peers.
I ran this course for several years with different cohorts of students. Each year, the curriculum of the course shifted in response to feedback from the previous year. Student satisfaction and measures of institutional learning objectives impacted course design. The ultimate measures of success come from tracking student work after they leave the MA/MBA program, and watching their careers take shape.
Learning Moment:

You learn a lot about someone by how a person makes something. Over many years of teaching coursework, I've seen how the personality traits of students manifest in their work. In order for my course to succeed, the curriculum and structure must be flexible enough to accommodate a wide swath of personalities. For example, anxious personalities need a safe space filled with creative trust and confidence to let go of their perfectionist tendencies in order to experiment without crippling their work by a fear of failure. Creative confidence manifests in details as small as how students draw lines in their diagrams, i.e. unsure feathered lines, versus confident solid-stroke lines, to their big-picture concepts challenging what is possible, or staying safely within the realm of known solutions. One thing I have definitely learned from my students: I do not endorse eating cardboard as part of an exploration of materials.