In high school I was taught that a good designer is a good citizen. That mantra evolved as I have come to experience the world from curious participant to instigator of change. Our world has no scarcity of problems to be addressed, and much of what appear to be working systems do not work for everyone. Through my community organizing work and as an entrepreneur building businesses, I appreciate how everyday design decisions make lasting impact on the world we continually reshape. Good intentions does not equal good design. Good design is intention paired with a rich understanding of context, community and user desirability, and metrics for progress while pulling one lever of change at a time.
From neighborhood sidewalks to ribbon rooms, bottling factories to aquariums, I find that design and creative thinking can play a role just about anywhere. Architecture introduced me to design; however, my practice encompasses far more than spatial interventions. I believe working without the constraint of physical form allows for work to respond to its context, making it stronger. My practice examines historical, social, and physical context to design systems for change in a variety of forms such as publications, objects, structures, environments and experiences.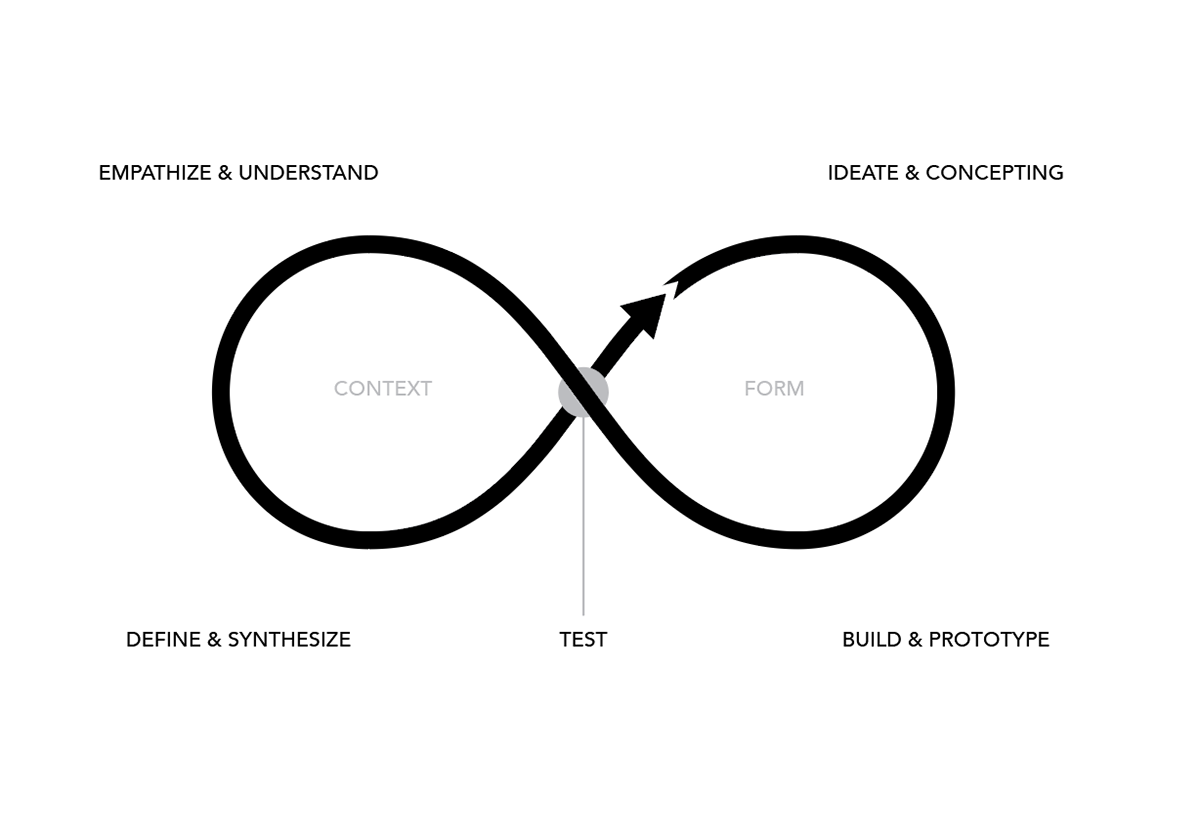 My work though variant in scope follows a continuous iterative cycle between gathering context around an opportunity and creating form as an intervention in response to that opportunity. 
Empathize & Understand

- Research and learn the landscape of an opportunity. 
Strategies: Literature Review, Stakeholder Interviews, Field Observation, Competitive Analysis, Market Research, Precedent Studies 
Define & Synthesize

- Distill to a problem definition, or an actionable place for intervention. Develop metrics for success. 
Strategies: personas, root cause analysis, opportunity framing, SWOT analysis, design brief/scoping, KPI development, How might we questioning
Ideate & Concepting

- Imagine new possibilities.
Strategies: brainstorming, think wrong, yes, and.., 
Build & Prototype

- Bring possibility to life
Strategies: Wireframes, Storytelling, journey maps, SOP, objects, system building
Test

 

-

 

S

e

e what work

s and what doesn't.
Strategies: impact measurement, prototype adoption, click-throughs, ripple effects, stakeholder feedback, feasibility studies
Design never happens in a vacuum. Below are some guidelines that I like to hold to every opportunity I engage with. For more guidelines I subscribe, please check-out

Design Justice

, Creative Reaction Lab.
> Meet people where they are at. Avoid building a solution you expect people to come to.
> Check bias and assumption you bring to your work. Realize how your worldview may impact your work. Be humble and open to learning.
> Realize that impact both good and bad takes time, and often manifests in ways unrealized at the beginning of a design opportunity.
> When formal systems do not provide solutions, informal systems will.
> Center the voices that are most impacted by a design opportunity. Everyone is an expert of their own lived experience.