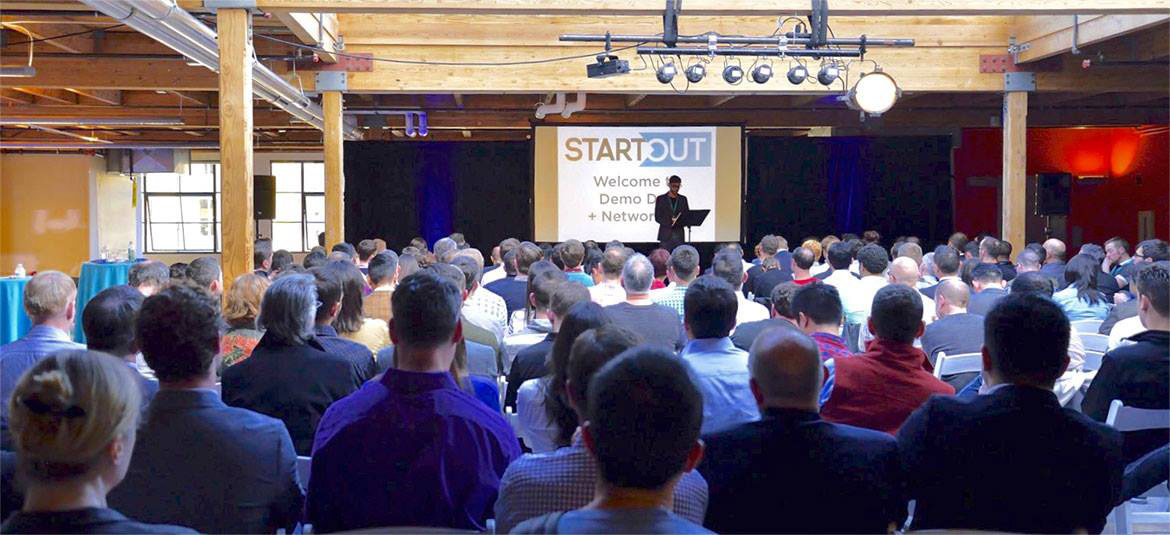 Involvement:

Community Strategist
StartOut's mission is to increase the number, diversity, and impact of LGBTQ+ entrepreneurs, and amplify their stories to drive the economic empowerment of the community. As the organization grew and formalized programming, it lost touch with the community aspect that originally gave it life. This intervention seeks to reactivate and reignite that community.
​​​​​​​
StartOut was founded in 2009, by four LGBTQ+ entrepreneurs. Initially, the organization started as a small group gathering together to talk tactics and connections to social and financial capital within the Bay Area. Today, over 17,000 members of LGBTQ+ and Ally entrepreneurs, service providers, and investors make up a national network of local chapters, mentorship, and additional programs to break barriers LGBTQ+ entrepreneurs face in the start-up world.
Over the past decade, the organization grew staff capacity, funding, and reach. Stronger than ever in terms of impact, StartOut has realized that it lost the magic of social community by formalizing programming infrastructure in an effort to drive impact. Though impressive in numbers, with over 42 million dollars raised by LGBTQ+ companies, the community lacks a unifying voice and vision to rally behind. 
This is particularly evident in the local 15 chapters across the country, where programming attendance and retention of members has dwindled in recent years. While the turnover of volunteers further slowed progress and continuity in the experience of StartOut locally.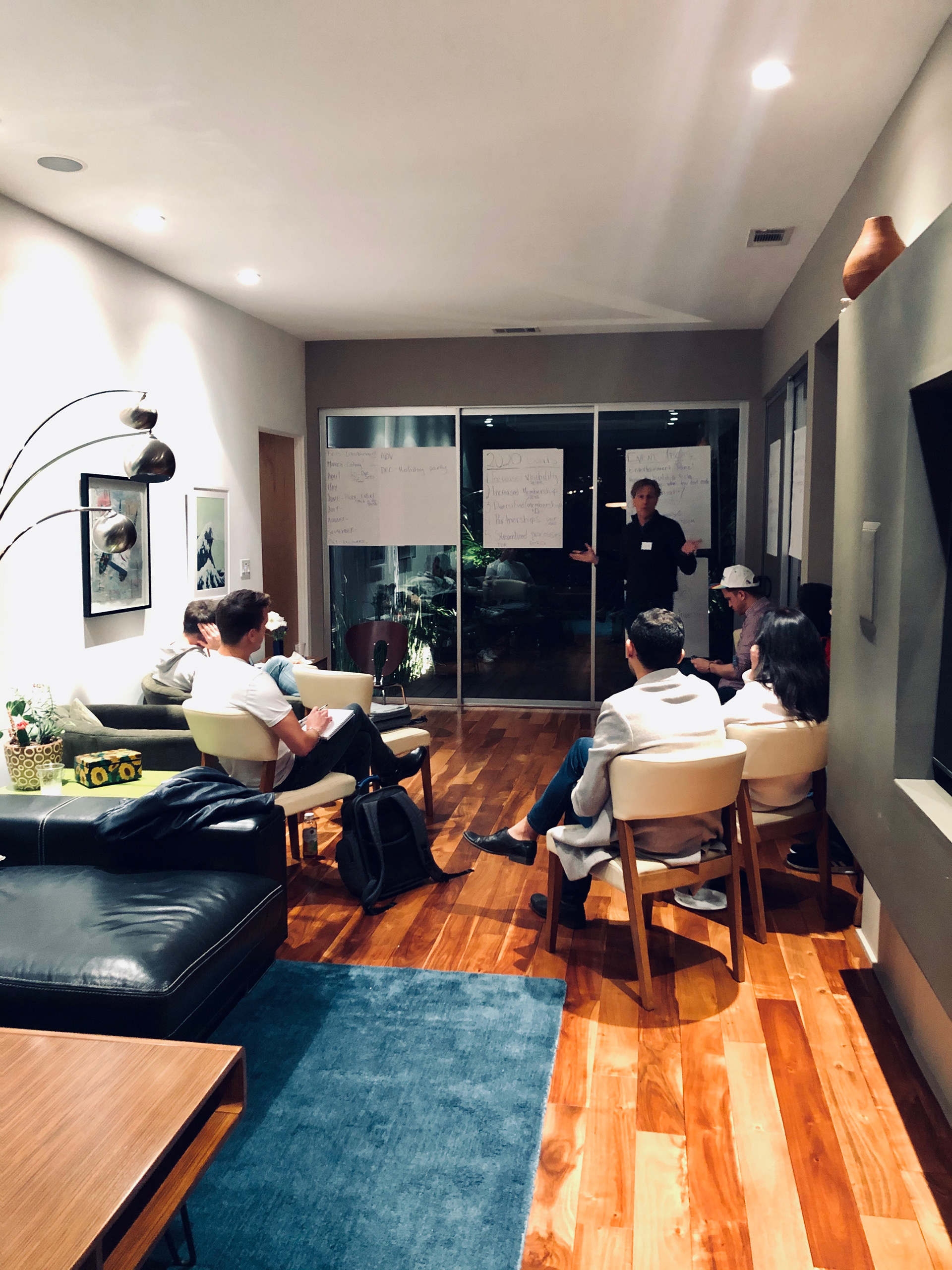 Upon introduction to the community, my first research looked at the data that StartOut already collected. Reviewing member data and event attendance, I started to understand the make-up of the community and what worked and didn't work. Comparing this with similar member organizations in other areas, patterns of engagement began to emerge.
Talking to staff and long-time participants in StartOut the landscape of the organization helped me grasp how the organization changed through time: slowly moving away from the in-person community to generalized resources offerings. Program success metrics are easier to track by program dollars, wherein the value social connection is harder to measure. As a result, the organization focused more on dollars flowing through StartOut as an organization, to the cultural detriment of chapters outside of San Francisco.
Finally, by engaging in continual conversation with chapter leaders and attending chapter meetings, I uncovered unhealthy power dynamics at a local level between volunteers and members fueled by a lack of direction and purpose. Events ran on autopilot, drew in fewer and fewer new members, and left the current cache of volunteers uninspired.
Reviewing the data from interviews and immersion experiences, three community typologies emerged from the local chapter communities. Each type of community experienced different challenges, and required qualitatively different from StartOut's HQ.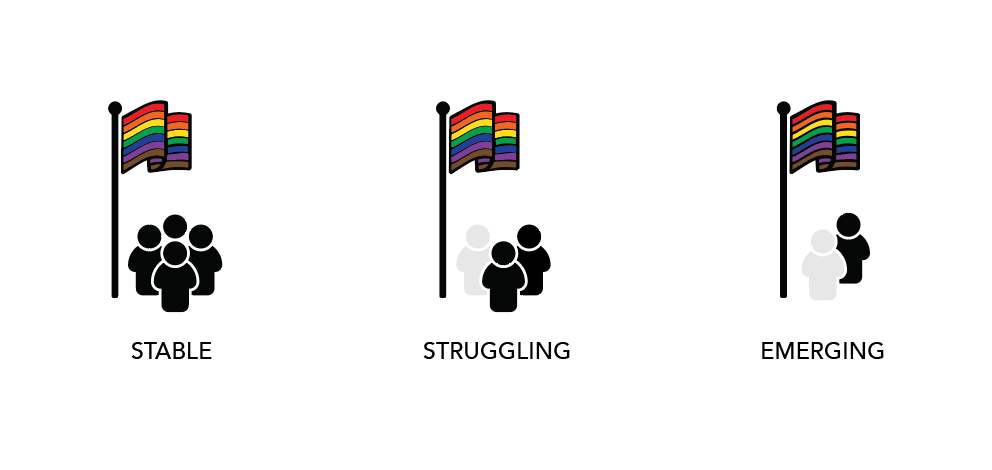 Stable Chapters

like New York City, San Francisco, and Los Angeles, all functioned mostly independent of the HQ. Though not struggling for event ideas or community programming, they lacked definition about how to expand the community beyond their existing networks. This lead to a lot of the same type of people in the room and presenting an unwelcoming homogenous culture for new entrepreneurs to join. 
Struggling Chapters

like Boston and Chicago had been active and successful over the course of their history, but now struggled to retain members and produce content and events that were relevant and needed to their local communities. Their network skewed heavily towards service providers for entrepreneurs. Without a dynamically growing membership, the chapters became stale and less valuable to entrepreneurs who either exhausted or did not require the services this network provided. Because of a lack of strong communication and support between the local chapter and StartOut HQ, the chapters failed to build new programming that aligned to the organizational mission.
Emerging Chapters

like Denver, Washington, D.C., and Seattle may have one or two champions for StartOut. These champions run everything themselves. These volunteers may have participated in StartOut's programming elsewhere, and were in many cases entrepreneurs themselves. However, they lacked the capacity, especially the time, to scale a community in their own cities due to the need to prioritize their own entrepreneurial ventures. Without strong communication and support from StartOut HQ, these chapters struggle to grow and survive.
As most of StartOut's community success had been driven by communities forming organically, the national strategy lacked guidance on how to build community. Additionally, all chapters, staff, and stakeholders explicitly mentioned a lack of diversity beyond the LGBTQ+ spectrum, and how the most marginalized communities within the entrepreneurship space were not present at events.
Several opportunities for improving, growing, and expanding the StartOut community shine through the data and feedback from chapters.
A "Growth Playbook" for chapters would allow StartOut to create templates that individual chapters could adapt for events, growing membership, and providing resources. This playbook should cover different strategies based upon the category the chapter belongs to--what works well for a large city like New York may be ineffective or impossible for smaller chapters like Oklahoma City. The Playbook must also support chapters that fluctuate in size and strength. This playbook centers the StartOut mission, and sets standards for best practices while being flexible and adaptable.
​​​​​​​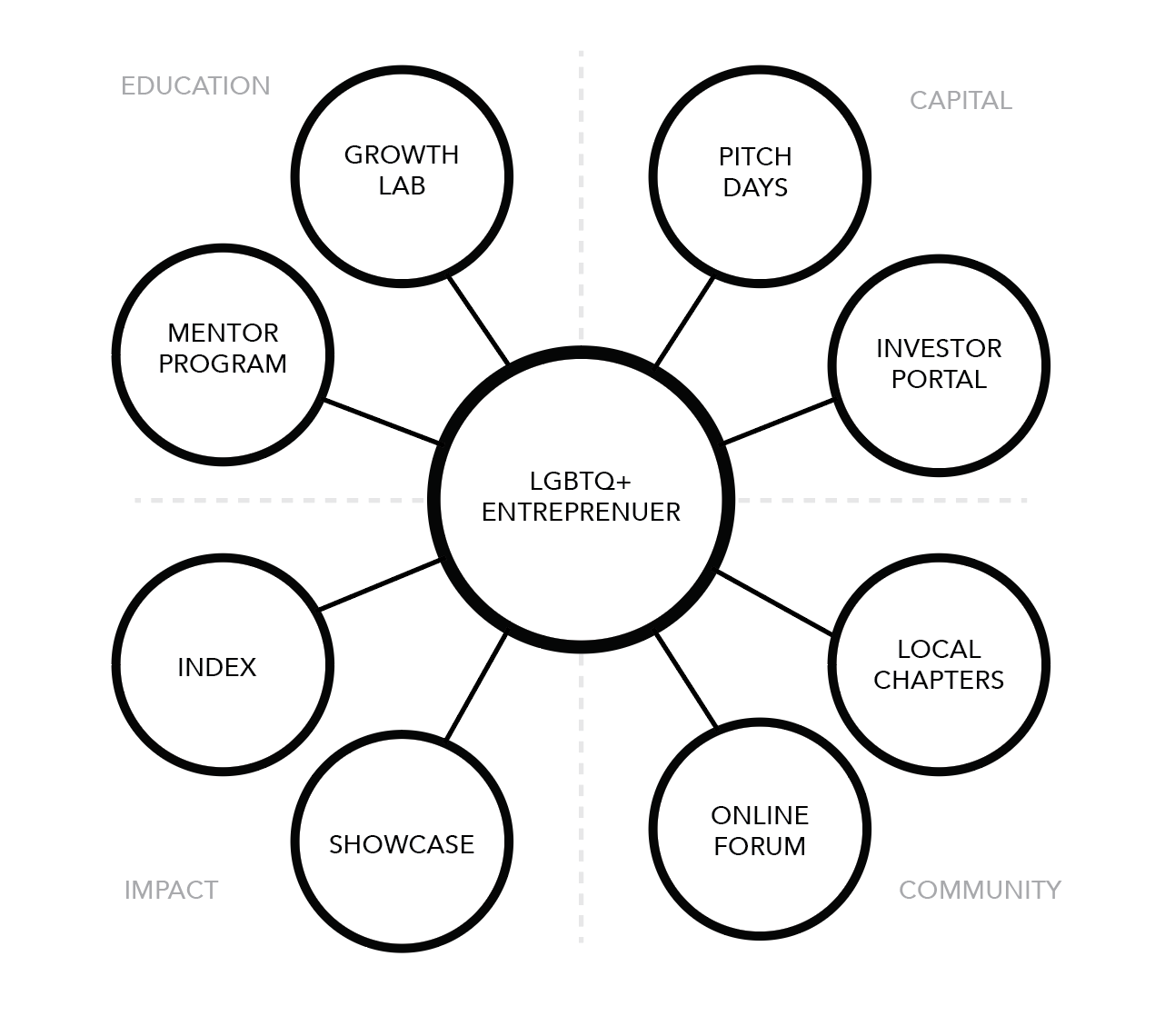 StartOut should take this opportunity to implement a member-centric community strategy. This vision gears all the programs and media around the entrepreneurs in the network, rather than on StartOut as an organization. StartOut can be a platform for celebrating entrepreneurs and the work they are doing. Entrepreneurs can be the face of the organization, rather than using their success to further advance the organization's image. This shift in framing makes a world of a difference to build trust and connection among members of the StartOut community. 
​​​​​​​
Over the course of implementing these changes, the success is measured by tracking grant funding deliverables, grant requests, member engagement, new members, member retention, and demographic diversity. A new net promoter score scale is being implemented locally to track progress and chapter strength. These feedback loops between the local chapters and StartOut HQ will enable StartOut to have a better finger on the pulse of the organization from the ground up.
Overall in member organizations, it is easy to profile and celebrate the most successful of the members involved. However, focusing on just those who benefit from a system only tells a small part of the story of an organization. In a healthy community, everyone must gain mutual value and benefit to stay actively engaged. To support a community of entrepreneurs, the supporting organization must move in an "Ego to Eco" mindset: that is, understanding that the goal of the organization must focus less on the organization itself, but benefits from celebrating the ecosystem it cultivates among its constituents.